Terms of Service

I hereby authorize ezDD214.com to submit my Request Pertaining to Military Records (my "Request") to the appropriate US and/or State records repository(ies) which has/have been identified by the National Archives and Records Administration as the repository(ies) most likely to hold the records which I have requested. Pursuant to the provisions of the Privacy Act of 1974 (Public Law 93-579), Government records repositories cannot release personal information without the prior written consent of the individual to whom those records relate. Consequently, an employee of ezDD214.com cannot discuss the details of your Request with the Government records repository. Therefore, after ezDD214.com has submitted my Request, I must undertake any follow-up or status check directly with the facility(ies) itself/themselves.
Best Efforts. ezDD214.com, a division of TRG LLC, a private business NOT affiliated with any State or Federal government agency, is a company that conducts and provides archival research products and services for its Clients. ezDD214.com's research products and services shall be provided on a "best efforts" basis.
We do not issue your documents. We help you submit your Request as your authorized Agent, in an efficient manner. We have no control over the decisions made by any Government records repository regarding the denial or approval, in whole or in part, of any Request. We have no control over the Government's requirements for additional supporting documents and/or additional supporting requirements based upon the information submitted by you whether directly or through us as your agent.
Independent Contractor. ezDD214.com shall perform its work as an independent contractor.
Client Disclosure. Client understands that incomplete, inaccurate, imprecise, and misspelled information will make more difficult and may frustrate ezDD214's research efforts.
Rates & Pricing. Products or services which are offered at a stated price are firm; there are no hidden or additional charges. You understand that you are paying a fee to ezDD214.com and that you are still responsible for any government fees which the Government may assess in regard to your Request. The Government will process most requests without charge. However, if additional fees are required, the Government will generally advise you in advance of any such fees before completing your Request.
No Refunds. You understand by agreeing to the terms herein that you have purchased the service stated, therefore, due to such acceptance, refunds are not possible for any reason (including, but not limited to):
Subsequent to your order, you locate the documents which you have requested;
Delays in the Government's processing of your Request, and/or their inability to fulfill your Request in whole or in part;
Document procurement difficulties, including changes in policy, regulations or requirements.
The foregoing list is representative only.
Privacy & Confidentiality. The privacy of our clients and the nature of their research project is of the utmost importance. Protecting your privacy and the information you provide to us is one of our top priorities. Private and nonpublic personal information is protected in accordance with applicable law and we will endeavor to protect information you provide to us through our web site, the U.S. mail, over the telephone, email and fax. ezDD214.com shall not disclose any nonpublic personal information to any third party unless the disclosure is permitted or required by law, or the Client has authorized the disclosure of the information.
Limitation of Liability. In the event that the research products or services fail to conform in any manner to this Agreement or any specifications of ezDD214.com, the Client's sole remedy and ezDd214.com's sole liability shall be limited to the amount of any fees collected by ezDD214.com from Client . IN NO EVENT WILL EZDD214.COM BE LIABLE TO THE CLIENT FOR INCIDENTAL OR CONSEQUENTIAL DAMAGES EVEN IF EZDD214.COM HAS BEEN ADVISED OF THE POSSIBILITY OF SUCH DAMAGES. EZDD214.COM SHALL NOT BE LIABLE TO THE CLIENT FOR ANY DIRECT, INDIRECT, SPECIAL, INCIDENTAL OR CONSEQUENTIAL LOSSES OR DAMAGES, INCLUDING, WITHOUT LIMITATION, LOSS OF REVENUE; LOSS OF CUSTOMERS, CLIENTS OR MEMBERS; LOSS OF GOODWILL; OR LOSS OF PROFITS ARISING IN ANY MANNER FROM THIS AGREEMENT AND THE PERFORMANCE OR NON-PERFORMANCE OF ANY OBLIGATIONS UNDER THIS AGREEMENT.
Indemnification. The Client shall indemnify and hold ezDD214.com harmless from and against any and all lawsuits, claims, damages, liabilities or expenses (including reasonable attorney's fees in connection with the investigation, defense, or settling of any such loss, claim, damage, action or proceeding) related to or arising out of the Client's use of the research products or services provided by ezDD214.com. This indemnification provision shall survive any termination of this Agreement.
Force Majeure. In the event ezDD214.com is prevented or hindered from complying with any of the requirements of this Agreement by reason of war, riots, embargoes, strikes or by operation of force majeure or any federal or state law or any order, rule or regulation of governmental authority, then, while so prevented, ezDD214.com's obligation to comply with such requirement shall be suspended and ezDd214.com shall not be liable for failure to comply therewith. Should such occurrences continue for more than ninety (90) days, either ezDD214.com or the Client may terminate this Agreement without further liability to the other.
Dispute Resolution. ezDD214.com and Client agree that all disputes regarding ezDD214.com's fees or expenses or performance are to be resolved by binding arbitration, pursuant to the Better Business Bureau, by a single arbitrator appointed in accordance with those rules, located in New York County, the City of New York.  Any cause of action arising out of ezDD214.com's provision of research products or services shall be instituted within one year after the claim has arisen or such cause of action shall be barred.
Entire Agreement. This Agreement sets forth the entire agreement of the parties and may not be modified except by written amendment executed by each of the parties. In the event any provision of this Agreement is determined to be invalid, all other provisions shall remain in full force and effect.
Website and Internet Policies. Please review our policies with regard to our website: Ordering & Payment (including our Return & Refund Policies) and Privacy Notice posted elsewhere on this site. These policies govern your visit to The Touchstone Research Store.
We also recommend that you read our Frequently Asked Questions (F.A.Q.) where we address many of the questions which are commonly asked by our clients.
We reserve the right to make changes to our site, policies, and these Terms of Service at any time.
Choice of Law. This Agreement shall be construed according to, and be governed by the laws of the State of New York.
YOUR PURCHASE AND USE OF EZDD214.COM'S RESEARCH PRODUCTS AND SERVICES, INCLUDING YOUR USE OF THIS WEBSITE, CONSTITUTES ACCEPTANCE OF THESE TERMS OF SERVICE.

ezDD214 Service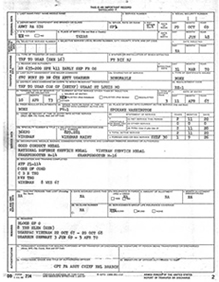 reviews ››
Reviews

My first contact with EZ was on June 30th, and Thrs. July 16th I received 2 copi ..
by Don Lee Wilson

[5 of 5 Stars!]